The perfect choice for everyday home use, the Vinospray is particularly advantageous, do not hesitate to open your finest wines!
The practical spray can be stored anywhere (away from heat) and will always be at hand.
The benefits of VINOSPRAY :
the ways to keep wine in opened bottles are not always practical, Vinospray provides an innovative and affordable solution with the use of a mixture of gases used by professional of wine, mixture that has proven itself for years.
Moreover the efficiency of the injection is given by a double diffuser Softyjet flows to make the most of the piston effect of the atmosphere heavier than air.
VINOSPRAY consists of a perfectly neutral atmosphere, densier than the air in contact with wine, allowing it to replace the air and thus oxygen detrimental to the preservation of wine bottles. So aromatic original qualities are preserved for several days.
Minimum volume of 9.5 liters, allows the protection of about 30 to 40 bottles started.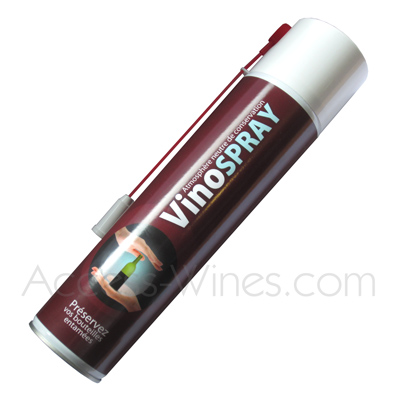 VINOSPRAY - preservation of wines
for domestic use
made in EUROPE
18.04 EUR

VinoSpray (home use) to preserve the wines after opening - capacity 0.8 liter
Comment ça marche :
Grâce à l'effet piston de l'atmosphère de VINOSPRAY ! L'effet piston fonctionne lorsque la vitesse du gaz est suffisamment faible pour que ce gaz se répande à la surface du vin ; il complète ensuite le volume vers le haut en poussant vers l'extérieur l'air présent dans la bouteille. Le mélange d'argon et de CO2 forme une atmopshère plus lourde que l'air et permet ainsi de chasser l'air de la bouteille.
Le Diffuseur Softyjet breveté a été conçu pour permettre d'abaisser fortement la vitesse du gaz dans un système double flux. Ainsi l'effet piston est assuré et l'air est chassé de la bouteille de la manière la plus efficace possible.
Comment être sûr que la quantité de gaz est suffisante alors que ma bouteille est plus ou moins entamée ?
Les durées d'injection sont indiquées dans le mode d'emploi pour des raisons de simplicité d'utilisation.
La pression de l'aérosol variant au fur et à mesure des utilisations successives, le Diffuseur Softyjet permet de compenser en quelque sorte cette problématique de pression et de quantité ; en effet , plus la pression est faible dans l'aérosol, plus l'effet piston est marqué, et le résultat optimisé.
D'autre part, l'atmosphère étant plus lourde que l'air, elle tend à napper à la surface du vin et donc à le protéger de l'oxydation.
En pratique, les temps d'injection permettent d'atteindre des valeurs d'oxygène résiduels dans la bouteille entre 2 et 5% maximum. (valeur dans l'air 20.9 %)
How to use VINOSPRAY
:

- Insert the Softyjet patented diffuser inside the bottle
- Get off the diffuser near the surface.
- Hold the tube with your fingers to avoid soaking the diffuser in wine
- - / Bottle at 3/4 full: 2 seconds of injection
- - / Bottle at 1/ full: 3 second injection
- Replace cap immediately with preferably a synthetic cork.
- Keep the bottle upright and cool.
Security :
The atmosphere Vinospray consists only of Argon and CO2, so it's a non-breathable atmosphere, do not breathe.
Use only VINOSPRAY for the intended use and according to the manual, do not leave within reach of children !
Pressure vessel do not expose to temperatures exceeding 50 ° C !
Do not break through.