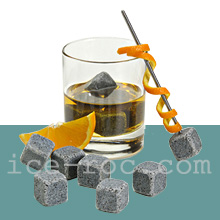 ICE-ROC - Granite ice stones
Your ice granite stone ICE-ROC will allow you to refresh aperitifs, whiskey, cognac, vodka, gin, tequila, rum, white or rosé wines and other beverages without the mix of water naturally present in ordinary ice cubes.
Ice stone should be placed at the bottom of the freezer at least one hour before use, it is best to keep them there permanently.
These cubes are of course reusable indefinitely.