A preservation system, which counts itself

VinoServ Champagne is an advancement of the proven VinoServ devices for wine preservation.
VinoServ Champagne makes immediately conclusion with the waste of valuable residues sparkling wine or Champagner.
The opened bottles after each pouring out under a pressure to hold filled of 3-4 bar with the special gas VinoServ Champagne in such a way sparkling wine and Champagne its freshness and its taste.
The handling is just as simple thereby as comfortable.

VinoServ Champagne offers thereby convincing advantages:
• with VinoServ Champagne rises the durability of open sparkling wines and Champagner to approx. 14 days
• Carbonic acid, taste and quality from sparkling wine and Champagner remain complete
• the assigned gas is perfectly innocuously, odorless and food genuine
• VinoServ Champagne devices are problem-free in the handling and with 60-80 applications per cartouche economical in consumption
• VinoServ Champagne makes itself fast paid and brings additional net yield

Simply in the handling – economically in the use





Working principle:

1
adapt the stopper

2
fill with CO2 gas

3
set the manometer
made in EUROPE
289.98 EUR

Professional conservation system VinoServ for champagne bottles
furnished with the CO2 cartridge - stopper with security - manometer

Cartridge VinoConserv for VinoServ Champagne
made in EUROPE
67.3 EUR

2 Replacement cartridges for Professional conservation system VinoServ Champagne
made in EUROPE
523.39 EUR


(432.55 VAT excl.)
Pack with 16 replacement cartridges for Professional conservation system VinoServ Champagne
Security :
The VINOSERV system is a professional equipment..
The atmosphere VINOSERV consists of non-breathable atmosphere, do not breathe.
Use only VINOSERV for the intended use, do not leave within reach of children !
Pressure vessel do not expose to temperatures exceeding 50 ° C !
Do not break through.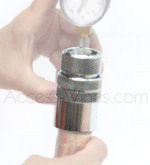 Additional stopper for VinoServ Champagne
made in EUROPE
121 EUR

Additional stopper for Professional conservation system VinoServ Champagne