Line while roundness of the Maître de Chais corkscrew will seduce expert hands. The warmth of rosewood, the strength of steel and the perfection of its mêche allowed him to find his place among the best sommeliers in France.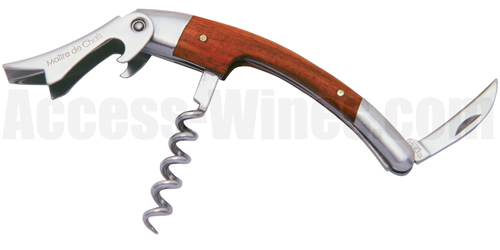 Maître de Chais corkscrew
Stamina rosewood handle - 2 brushed steel bolsters - 5 turns, collar and lever opener, nice finish with a very good price / quality ratio.
Dimensions: Folded length 11cm, blade 3.5 cm, spin 6cm (4.5 cm turns)
Maître de Chais corkscrew
(out of stock)
Black rubberized aluminum handle - brushed steel bolsters 2 - 5 turns, collar and lever opener, nice finish with a very good price / quality ratio