VACUVIN - pineapple slicer
pineapple peeler




Fresh, juicy, perfect pineapple rings in less time than it takes to open a can!
The ingenious Pineapple Slicer will peel, core and slice a fresh pineapple in just 20 to 30 seconds. It works like a corkscrew, removing the flesh in perfectly formed rings. One turn, one slice, or the whole pineapple in one go. The shell remains intact for use as a desert or drinks bowl. No mess - no fuss!




using directions of « Pineaple slicer » from Vacu-Vin
The 3 size of the pineapple slicer:
made in EUROPE
colis=0.4Kg




8.29 EUR

Pineapple slicer with 3 diameters of circle knives

---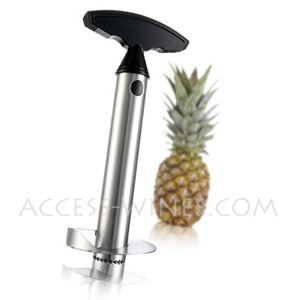 made in EUROPE
Set of 6 pineapple slicers with a STAINLESS STEEL MEDIUM circle knive
to make the pineapple slices

!!! ITEM COMPLETELY SOLD OUT !!!