With the Vacu Vin
PIZZA SLICER
you can effortlessly cut a perfect slice. Thanks to the sturdy grip and the curved broad blade, the Pizza Slicer can be used by anyone.
The slicer can also be used to cut herbs, vegetables, garlic and prepared meat products. This makes the Pizza Slicer the all-in-one instrument to prepare and slice your pizza.
The Pizza Slicer can be folded after use for safe and easy storage.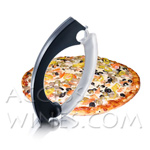 Quickly cuts a perfect slice
Safe to use
Foldable and easy to store
Can be used for herbs, garlic, vegetables and pizza
Detachable blade for easy cleaning