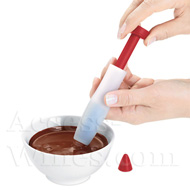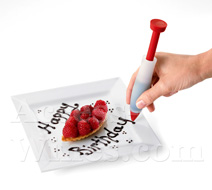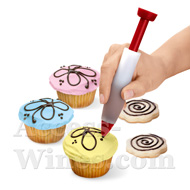 Decorating Pen Cuisipro
Great fun for everyone and simple enough for a child to handle. The Decorating Pen quickly and easily dresses up desserts, pastries, beverages and plates with decorative swirls or messages for professional results.
-Option for fine or thick lines.
-Use red tip for fines lines or remove for thicker strokes.
-Fill the body with store-bought or homemade sauces such as chocolate, icing, honey or berry sauce.
-It is as simple as writing with a pen. Fill, hold like a pen, gently squeeze the sides to decorate.
-Dishwasher safe top shelf. Use plunger to squeeze out any remaining sauce before placing in dishwasher.
colis=0.2Kg




11.95 EUR

Decorating Pen - brand CUISIPRO

A fun tool for adults and kids. Turn everyday desserts into special creations, by adding a decorative swirl or message.