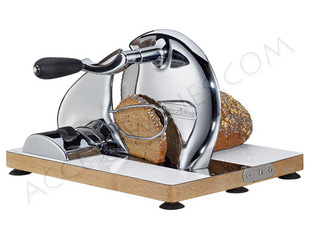 Zassenhaus universal manual slicer
Slicing machine for bread and sausages - Manual universal slicer featuring the original Zassenhaus retro design of the 60s. Circular knife 190 mm made of stainless steel with a special serration. Includes a folding base plate for space-saving storage. Six suction legs provide for secure fastening and handling.
Why choose a manual all-purpose slicer from Zassenhaus ?
This hand operated bread, meat, and cheese slicing machine is a replica of the legendary Zassenhaus models of the 1960's. The Zassenhaus slicer combine high quality and modern materials with an attractive, nostalgic design. Thus, this multi-purpose slicer not only good looking, but also fully functional, and state of the art.
Bread, sausage, ham, bacon, cheese, or vegetables all can be cut quickly and easily. Independant of a power supply, this slicer is not only environmentally friendly, but it can be used anywhere.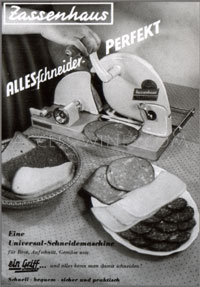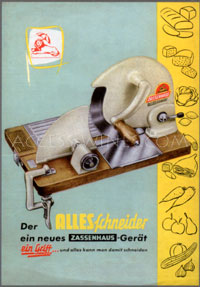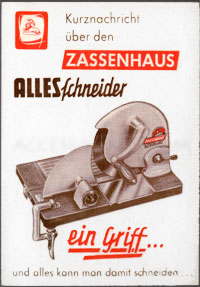 Legendary Zassenhaus slicers of the 1960's