Tubaq (Tobacco) by Maria Micozzi
The composition «Tubaq» is realized with purple and blue colors deep and intense.
In the dimension which meditates the cigar smoker, close to its lightness of thought, there remains the feeling of flying freely, significant depth of thought that the game itself reached.
The shades of colors that come in this composition were born as an expression of this psychological state so intense to penetrate the most secret recesses of thought and pleasure.
The words we use to give names to things have long stories behind them, which are then our stories.
Smoking tobacco has accompanied a series of magical-religious rituals and words keep the same values of magical attraction.
It is not by chance, before the discovery of the Americas, and before the discovery of tobacco plants, the arabic word «tubaq» was the name of a drug derived from a plant, the «Inula viscosa» which arabic means «furnace» and flavor that is also the spanish word for «tabaco», in haiti «tobaco» and italian «tobacco».
Luigi Pulci in Florence in the fifteenth century, the word tobacco was derived from the verb «tabaccare» means [to attract pleasantly] and Anton Francesco Doni later called the tobacconist, the man who woos women.
Macinghi Alessandra Strozzi in 1465, uses the word «attabaccarsi» (burned tobacco), the meaning of love strong.
Through empathy, close to a free play of associations between etymological points of view of smoke, cigars and tobacco in a strong color interior design. Maria Micozzi.
The numbered Marconi TUBAQ cigar humidor :
a limited edition at 249 units.
Maria Micozzi
is an Italian internationally widely-known artist whose works are exposed in private and public art galleries all over the world. She has been working as a professional artist since 1985, obtaining remarkable approval.
She was born in Italy, in Tolentino, but she is living and working in Milan at the moment.
Her studies in Maths, Psychoanalysis and Epistemology along with her passion for sculpture, art, form and matter mirror in her work's complex structure, combining the formal principles of composition with abstract and geometric elements, using different materials to create a tridimensional image.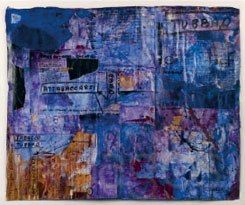 Tubaq -
Maria Micozzi