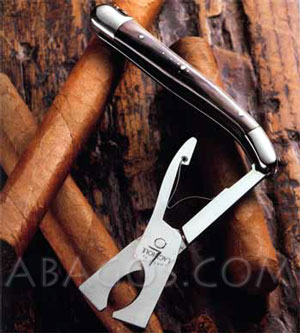 They had deserted Laguiole, a few years later they come back with the new
Forge de Laguiole
logo , in versions juniper, tip horn, stamina blond and cedar, with their beautiful chiseled bee and elegant spring.
Closed, they are indistinguishable from their traditional folding do not hesitate to wear mitres. But when they open, they work as best cigar cutter scissors they offer to amateur aficionados of this method of cutting and the instrument allows.
A practical product, country, especially for the walk of smoking.

Cigar cutters Forge de Laguiole
back details of bee and chiselled spring