CREDO > Humidifiers for humidor
Humidifiers CREDO for humidors


Humidifier for humidor - humidity regulator


The CREDO method :
The classical method consisted in placing a water reservoir inside the humidor in which the air becomes quickly saturated by evaporated water.
As soon as the Relative Humidity runs past 85%, mould appears. Beyond 90%, cigars will rot away after a few weeks or even days.
The CREDO Precision 70 overcomes this problem. The secret of its originality lies in a physico-chemical solution.
The principle is based on the creation of melange of water and tensio-active substances which limits the potential of the evaporation of the water itself.
The humidity of the air is a function of the composition of this melange.
Therefore, the manufacturer controls the Relative Humidity of the ambiant atmosphere inside any humidor.


The TUBE :
" THE TUBE " is a humidifier for pocket humidor, for cigar cases and travel humidors containing up to 15 cigars. It may stay in a direct contact with cigars, which offers the insurance of the best humidification.
To be located at the place of one cigar.
Dimensions ø 18 mm x 150 mm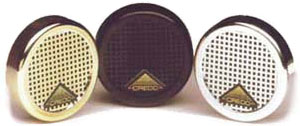 RONDO VOYAGE :
Rondo voyage : for a litle humidor from 10 to 30 cigars, tobacco jar.
Dimensions : ø 56mm,

thickness=12mm

.
RONDO :
Rondo : for a humidor containing 25 to 40 cigars, tobacco jar.
Dimensions :
ø 56mm,
thickness : 27mm.

25-50 cigars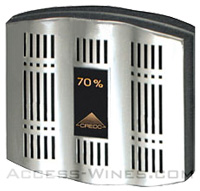 EPSILON :
EPSILON : for a humidor containing 40 to 80 cigars, with a new design.
Dimensions: 93 x 105 x 22 mm

50-100 cigars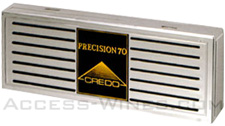 ONYX :
For humidors containing 50 to 100 cigars.
Several Onyx may be placed for humidors containing more than 100 cigars.
Dimensions: 166 x 65 x 22 mm

50-100 cigars
TITAN :
TITAN : for a humidor or cigar chest containing 100 to 300 cigars.
Dimensions: 230 x 80 x 33 mm.
SPECIAL CARE MOISTENER :
to ensure the periodic maintenance of the CREDO regulators.
It aims at regenerating the tensio-active substances. The Credo Special Care Moistener is the only product to be used for regenerating the Credo humidifiers.
One refill every six months at the place of a regular refilling.
Containing : 100 ml.
The suitable humidifiers for a cigar conservation local , tabac shop, etc...:
About Cigars
All the Cigar cutters
Laguiole Cigar cutter
Cigar cutter with spring blade
Cigar cutter scissors, Guy Vialis
Scissors cigar cutter, goldsmith's trade Eloi
Cigar cutter, GOLD plated frame, Eloi
Cigar cutter, GOLD plated handle, Eloi
Cigar cutter, pearl, tortoise shell, Eloi

» The CREDO cigar cutters
» Humidors : boxes, cellars and display cigars cabinets

» Leather travel humidors

» Snakeskin travel humidors

» Box for 40 cigars
» Humidor for 150 cigars
» Wall window for 150 cigars
» Window humidor for 200 cigars
» Glass chest art-déco for 20-50-75-100 cigars
» African series humidors: Zaire, Congo, Ghana, Kenya
» SIGLO humidors with electronic humidification CigarSpa
» HARLEQUIN marquetry series humidors 10-25-50 cigars
» MAP OF THE WORLD 75 cigars humidors
» Counter cigars cabinet 150-200 cigars

» Refrigered cigar cellar 300 cigars

» Window table cabinet 400 cigars

» Window table cabinet 40 cigar boxes

» Window table cabinet 500 cigars

» Air conditioned cigars cabinet for 500 cigars

» Cigars cabinet 600 cigars

» Window cabinet 600 cigars

» Full air conditioned cigar cabinet for 80 boxes

» Full air conditioned Window cabinet 1000 cigars

» Full air conditioned Window humidor 2500 cigars
The electronic humidifiers

» The electronic humidifier HYDROCASE

» The electronic humidifier CIGARSPA

» The PASSATORE humidifiers

» The hygrometers and thermometers
CREDO accessories overview

» CREDO humidifiers
» CREDO hygrometers
» CREDO equipment kits for humidors
» CREDO Synchro cigar cutters
» CREDO Synchro cigar cutters with wooden marquetry
» Credo leather bill-case with Synchro cigar cutter
» Screwpull humidor cases

The Ultimate Cigar Encyclopedia

Cubans:
The Ultimate Cigars

Cigar Aficionado's Cigars

Cuban Cigar Tobacco
Why Cuban Cigars Are the World's Best

The Cigar Connoisseur:
An Illustrated History and Guide to the World's Finest Cigars

The Sensible Cigar Connoisseur

Shanken's Cigar Handbook:
A Connoisseur's Guide to Smoking Pleasure