Ossido e Oro (Oxide and Gold) by Maria Micozzi
The composition «oxide and Gold» is realized with warm and golden colours.
«The cigar smoker lives in a very particular dimension, a light and thoughtful detachment from merely superficial things, a way of being in which time perception is expanded and the flow of thoughts more loosened and freer.»
This consideration has inspired the choice of colours such as oxide, amber and gold recalling twilight shadows and the quietness of calm meetings. The same consideration has also driven a sort of journey within the words smoke and cigar, along the tangles of their metamorphosis.
The history of some words reveals a lot about men thoughts.
Even in their transformation words always transmit something about the primary, deepest and richest sense, the sense that built them as powerful symbols at the beginning.
The word «smoke» comes from the Latin «fumus», vapour, connected to the more subtle meaning «breath» from the Sanskrit «dhumah».
The Greek «Thymos» implies an even more abstract and spiritual value, meaning vital strength; Homer has enriched and translated it into «the soul delight».
This strong reference to warm and pleasure is to be found in the word cigar, coming from the Mayan «jigar» which entered the Spanish language as «cigarro» maybe from «cigarra», «cicada», the singing insect of long summer days, whose body recalls rolled tobacco leaves.
A strong component of delight and pleasure characterizes the etymology of the term «tobacco», which goes from the Arab «tubaq», «warmth», to the «tabac care» of the 5th-century Florence, meaning «to attract pleasantly».
The cigar smoker lives a dimension where time is a moment full of emotions gradually becoming thought and not a wind breaking through and despoiling the mind.
The numbered Marconi OSSIDO e ORO cigar humidor :
a limited edition at 249 units.
Maria Micozzi
is an Italian internationally widely-known artist whose works are exposed in private and public art galleries all over the world. She has been working as a professional artist since 1985, obtaining remarkable approval.
She was born in Italy, in Tolentino, but she is living and working in Milan at the moment.
Her studies in Maths, Psychoanalysis and Epistemology along with her passion for sculpture, art, form and matter mirror in her work's complex structure, combining the formal principles of composition with abstract and geometric elements, using different materials to create a tridimensional image.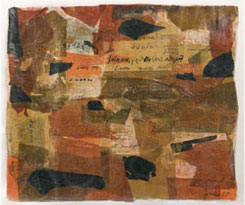 Ossido e Oro -
Maria Micozzi