Access-Wines > VASSCO champagne bowl, double side bright pewter
VASSCO champagne bowl
double side bright pewter

BERTHES COLLECTION
Conceived by Eric Berthes, graduate of the École Boulle in Paris, this collection owes its contemporary boldness to pencil sketches that received several awards on the international scene.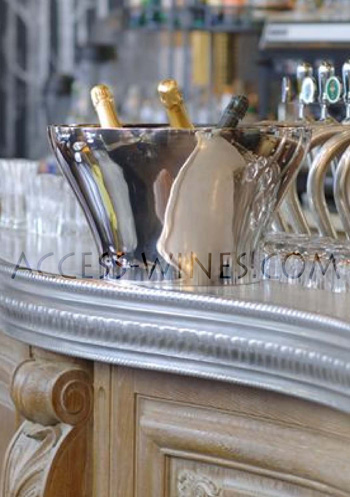 VASSCO champagne bowl, double side bright pewter
Its forms are a symbol of warmth and generosity of happy moments shared, unique, is the most spectacular champagne coolers!
Suitable for 6 bottles or 3 magnums of champagne.
made in France
colis=14.9Kg




999 EUR


(825.62 VAT excl.)
VasscÖ - Luxury big double facing bright pewter champagne bowl
Orf�vrerie d'Anjou - Designer: Eric Berthes


VASSCO champagne bowl with engraving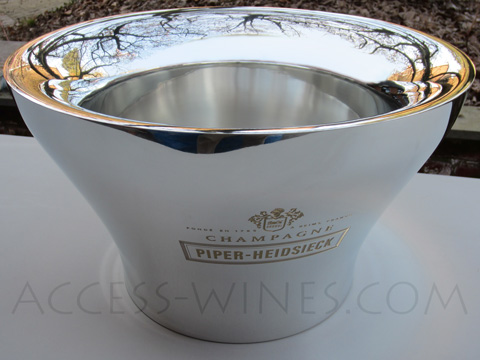 ---
A touch of Luxury

This excellent quality pewter object is entirely made in France by L'Orfèvrerie d'Anjou Pewtersmiths. Heir to a famous line of pewtersmiths born in the 18th century, L'Orfèvrerie d'Anjou is now working in partnership with the greatest creators in the design and luxury goods industry sectors, mastering the art which has made it the world leader in bright pewter. Its name guarantees prestige, its history a mark of authenticity and its lustre a promise to shine.
---

A touch of History
Pure pewter It has been said that its sheen, used on the shields of Greek Antiquity heroes in order to blind the enemy It also dazzled the great French aristocracy when Louts XIV decided by decree that pewter should sit alongside the silverware on rich household tables Noble ecological and rustproof, pewter then became a silversmiths metal in its own right, a prestige which it has kept every since.
---

A touch of Cleaning
Used in France for more than three centuries in the Loire Valley and today throughout the world, L'Orfèvrerie d'Anjou pewter travels down the ages without ever oxidising. Its naturally shiny appearance has the advantage of being very easy to care for Soapy water and a soft cloth are all that is needed to clean it. A void the dish washer and abrasive detergents Pewter is a living substance, so take care of it.
| | |
| --- | --- |
| | Guy Vialis champagne swords |
L'Orfèvrerie d'Anjou design Eric Berthes

VinoServ Champagne makes immediately conclusion with the waste of valuable residues sparkling wine or Champagne.
The opened bottles after each pouring out under a pressure to hold filled of 3-4 bar with the special gas VinoServ Champagne in such a way sparkling wine and Champagne its freshness and its taste.
»
Vinoserv for preserving Champagnes

The Champagne Companion
EDWARDS MICHAEL

Caviar With Champagne
Jukka Gronow

Champagne and Sparkling Wine:
Discovering, Exploring, Enjoying
Fiona Beckett

The Champagne Cookbook
Malcolm R. Hebert

Little Book of Champagne Cocktails
Hamlyn