SERRICO lasioderm trap
Originaly developed in Japan, the Serrico trap is the definitive monitoring trap for tobacco beetles with a powerful sex pheromone and a food attractant.
This combination produces a synergic effect to both male and female lasioderm.
Serrico can help you reduce time and money by pinpointing the presence of tobacco beetles in advance and suggesting the fastest care.
Environmentally safe: harmless insecticide-free attractants.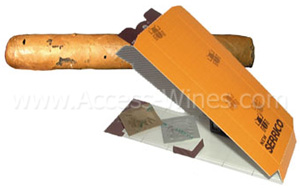 SERRICO lasioderm trap
made in Japan
SOS LASIODERM - SERRICO the lasioderm trap
About Cigars
All the Cigar cutters
Laguiole Cigar cutter
Cigar cutter with spring blade
Cigar cutter scissors, Guy Vialis
Scissors cigar cutter, goldsmith's trade Eloi
Cigar cutter, GOLD plated frame, Eloi
Cigar cutter, GOLD plated handle, Eloi
Cigar cutter, pearl, tortoise shell, Eloi

» The CREDO cigar cutters
» Humidors : boxes, cellars and display cigars cabinets

» Leather travel humidors

» Snakeskin travel humidors

» Box for 40 cigars
» Humidor for 150 cigars
» Wall window for 150 cigars
» Window humidor for 200 cigars
» Glass chest art-déco for 20-50-75-100 cigars
» African series humidors: Zaire, Congo, Ghana, Kenya
» SIGLO humidors with electronic humidification CigarSpa
» HARLEQUIN marquetry series humidors 10-25-50 cigars
» MAP OF THE WORLD 75 cigars humidors
» Counter cigars cabinet 150-200 cigars

» Refrigered cigar cellar 300 cigars

» Window table cabinet 400 cigars

» Window table cabinet 40 cigar boxes

» Window table cabinet 500 cigars

» Air conditioned cigars cabinet for 500 cigars

» Cigars cabinet 600 cigars

» Window cabinet 600 cigars

» Full air conditioned cigar cabinet for 80 boxes

» Full air conditioned Window cabinet 1000 cigars

» Full air conditioned Window humidor 2500 cigars
The electronic humidifiers

» The electronic humidifier HYDROCASE

» The electronic humidifier CIGARSPA

» The PASSATORE humidifiers

» The hygrometers and thermometers
CREDO accessories overview

» CREDO humidifiers
» CREDO hygrometers
» CREDO equipment kits for humidors
» CREDO Synchro cigar cutters
» CREDO Synchro cigar cutters with wooden marquetry
» Credo leather bill-case with Synchro cigar cutter
» Screwpull humidor cases

The Ultimate Cigar Encyclopedia

Cubans:
The Ultimate Cigars

Cigar Aficionado's Cigars

Cuban Cigar Tobacco
Why Cuban Cigars Are the World's Best

The Cigar Connoisseur:
An Illustrated History and Guide to the World's Finest Cigars

The Sensible Cigar Connoisseur

Shanken's Cigar Handbook:
A Connoisseur's Guide to Smoking Pleasure