Laguiole > Carving sets
Carving set Claude Dozorme


Founded in 1902, the Claude Dozorme brandname is the seal of a long family tradition. Passed down from generation to the next, commintment to fine workmanschip is still paramount for the craftsmen, all of whom are trained in the well-tried and painstaking skills of the Master Culers. The Claude Dozorme swords are the result of meticulous research and commitment to quality, making this fine piece of quality craftware a unique item !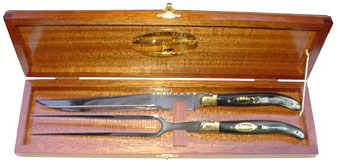 made in France

See also:




Forge de LAGUIOLE

to know more
From Forge de Laguiole,
made in Laguiole France
the famous carving sets.


French Lessons
: Adventures with Knife, Fork, and Corkscrew


Steak Lover's Cookbook


LE LAGUIOLE
Une lame de légende.
Un livre de
Daniel CROZES